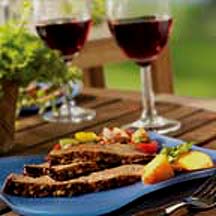 A fresh and spicy peach sauce adds pizzazz to mouthwatering, tender beef brisket.
4 1/2 pounds Certified Angus Beef® brisket
2 habanera peppers, seeded
2 tablespoons ginger, chopped
1 shallot
2 tablespoons unsalted butter
1/4 cup Lea & Perrins® Worcestershire Sauce
2 pounds peaches, peeled and pitted
1/4 cup stone ground mustard
1/2 cup granulated sugar
Salt and pepper to taste
1. Prepare smoker or grill to smoke brisket.
2. To make peach sauce: sweat habanera, ginger and shallot in butter until tender. Add Worcestershire Sauce to deglaze pan. Add peaches and mustard, cook for 10 minutes over low heat. Purée in blender. Add sugar; season with salt and pepper to taste.
3. Season brisket with salt and pepper if you like and cook for about 30 minutes turning once. Brush with peach sauce about every 30 minutes; smoke brisket for 7 to 8 hours.
Serves 10 to 12.
Nutritional Information per Serving: 353 Calories; 18g Fat; 7g Saturated Fat; 122mg Cholesterol; 17g Carbohydrate; 1g Dietary Fiber; 39g Protein; 232mg Sodium; 25% daily value Iron (based on 2,000 calorie diet).
Recipe and photograph provided courtesy of
www.certifiedangusbeef.com
, through ECES, Inc., Electronic Color Editorial Services.